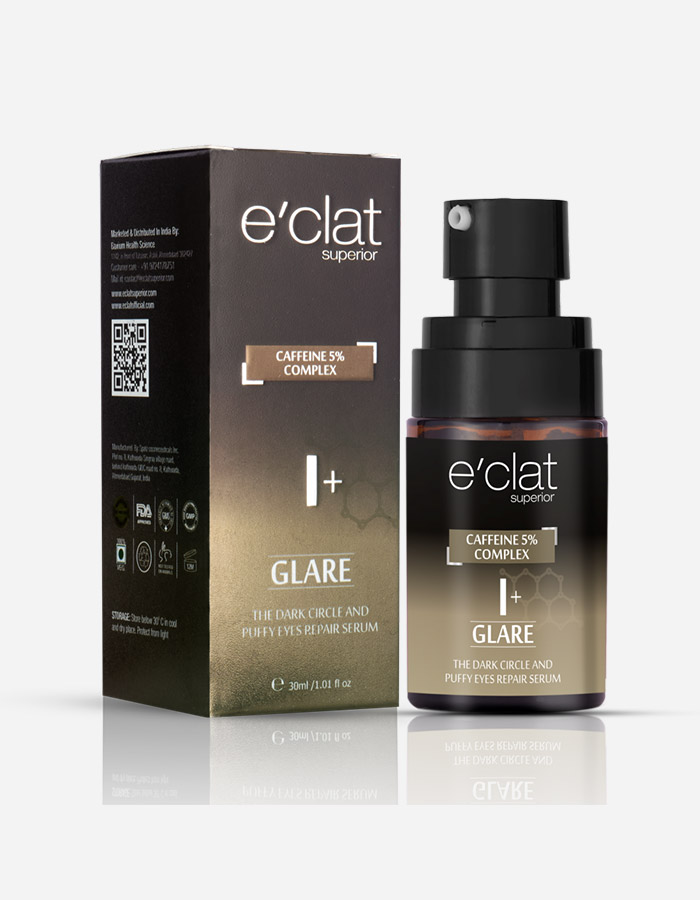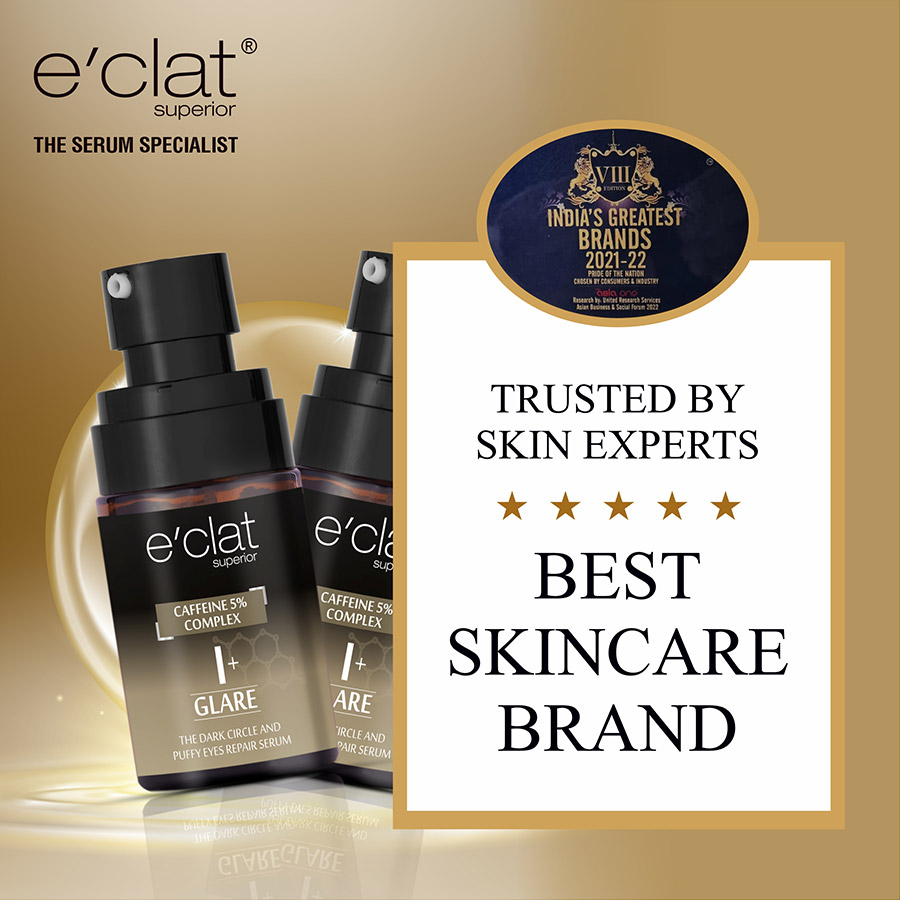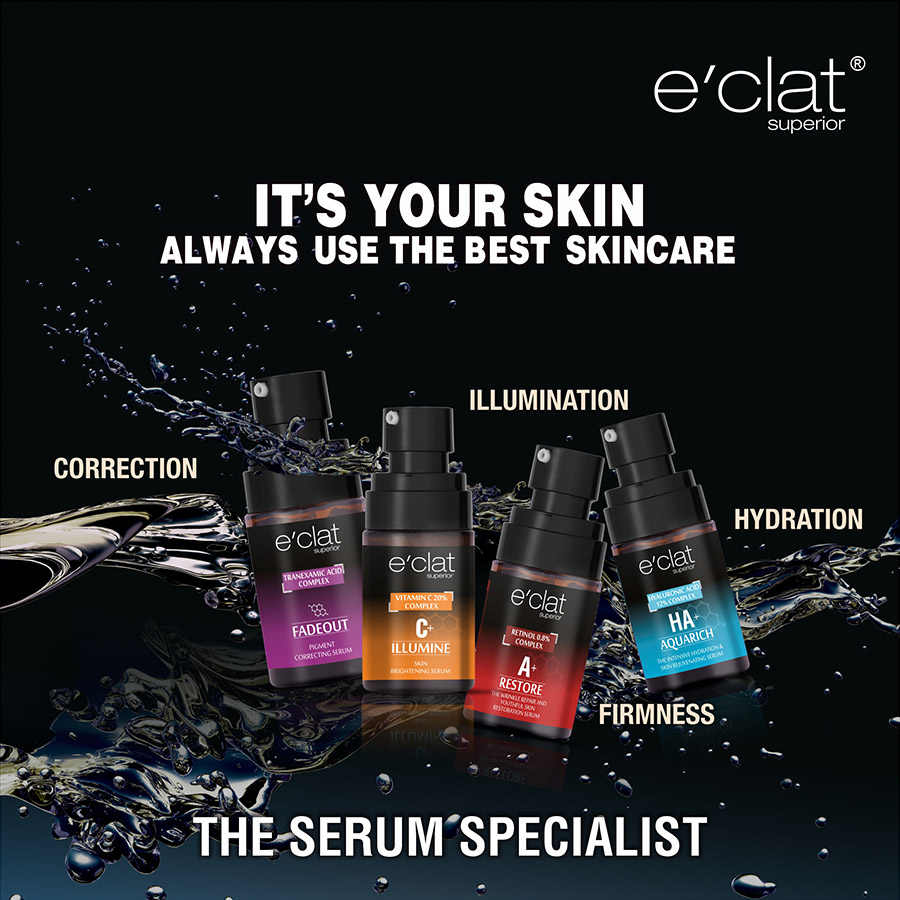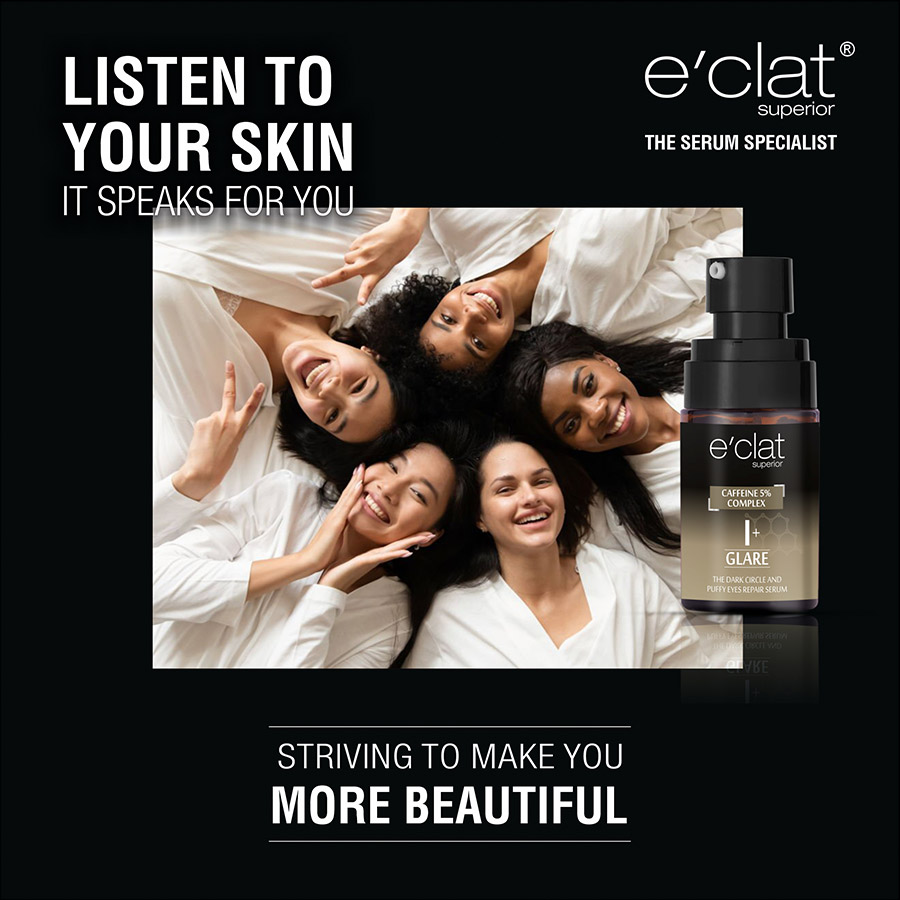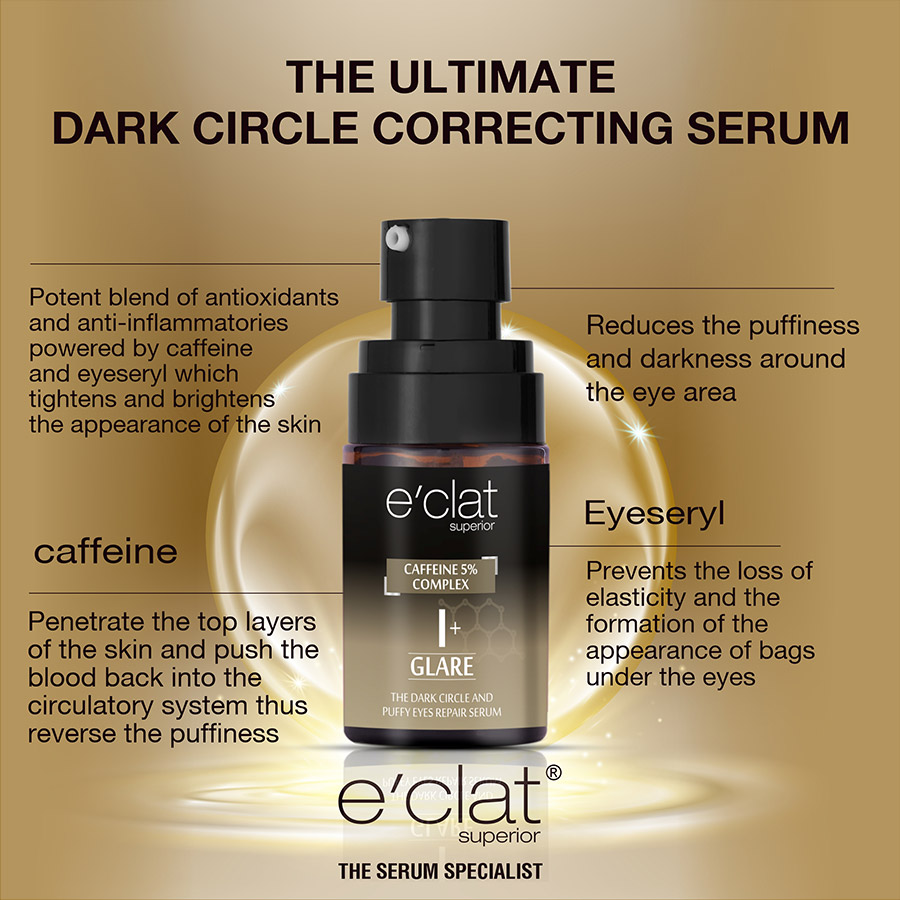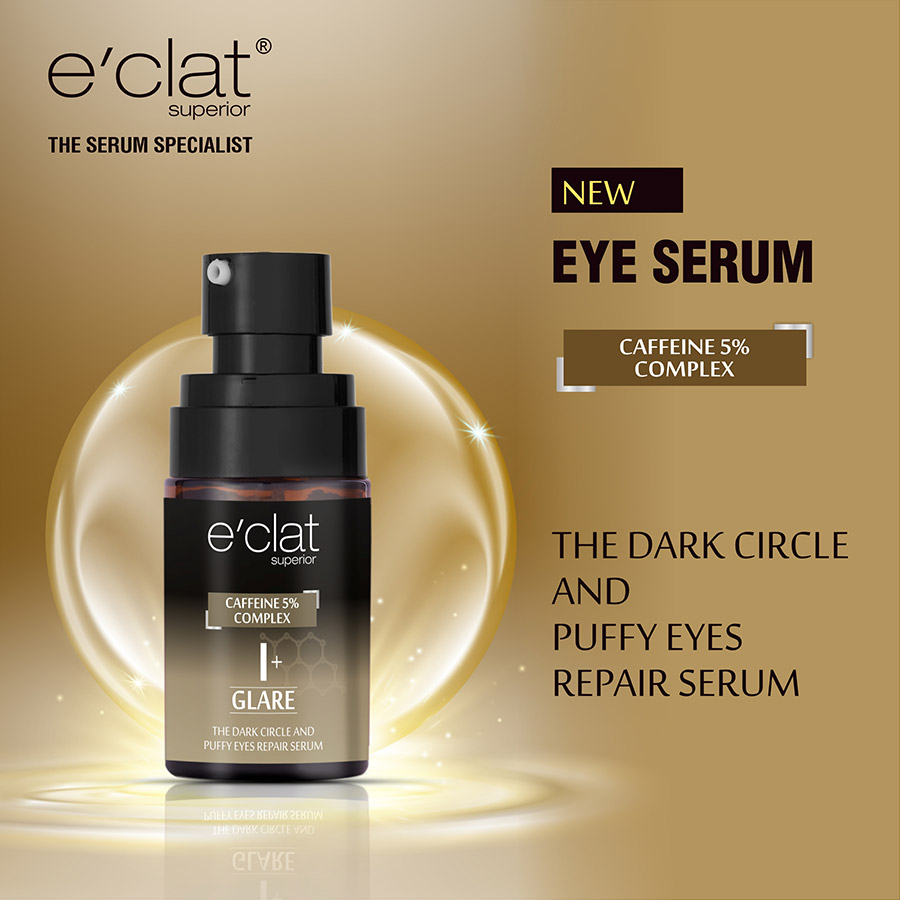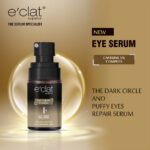 e'clat superior Eye Serum for Dark Eye Circle & Puffy Eye Bags – 30 ml
₹1,700.00 MRP (INCLUSIVE OF ALL TAX)
Mfg. September 2022
30 ml
• Reduce the appearance of under eye circles
• Reduce puffiness beneath the eyes
• Restore the elasticity to the skin around the eyes
• Minimize wrinkles, crow's feet and fine lines around the eyes
Description
The Benefits of e'clat superior eye serum
Using an Eye Serum is the best way to renew and firm the delicate skin that is around the eye. Using one that is formulated for sensitive skin while still benefiting from reducing the signs of fine lines, puffiness, and dark circles is going to be the most beneficial.
e'clat superior eye serum is a high potency eye serum that tackles all these issues as well as toning and firming the skin around the eye. It does this by using caffeine with advanced peptide called eyeseryl which can visibly return eye contours to a more youthful appearance. In combination with the peptides are also red Ginseng,Carrot seed extract,Soyabean extract,Retinol and Ferulic Acid making it a perfect soothing, hydrating combination.
Ingredients
Caffeine 5% Eyeseryl 1 % Retinol 1 % Ferulic Acid 1% Hyaluronic Acid 1% Carrot seed Extract 1% Soyabean Extract 1% Red Ginseng 1%
WHAT CAUSES DARK CIRCLES?
Lack of Sleep
Oversleeping, extreme fatigue, or just staying up a few hours past your normal bedtime can cause the skin under the eyes to become dull and pale, allowing for the underlying dark tissues and blood vessels to show. Lack of sleep can also cause fluid to build underneath your eyes, causing them to appear puffy. As a result, the dark circles you see may actually be shadows cast by your puffy eyelids.
Eye strain
Excessive Staring at your television, Mobile, or computer screen can cause significant strain on the muscles around your eyes (known as hypertrophy). This strain can cause blood vessels in the skin around the eyes to enlarge and show up resulting in a darkened appearance. If your eyes have refractive errors (i.e. plus or minus numbers) not corrected by an eye specialist through spectacles or contact lenses, then the eye strain can be even greater leading to even more significant darkening of the skin.
Stress
Overthinking, mental exhaustion & fatigue can lead to lack of sleep, increased eye muscle movements, poor nutrition & drier skin can lead to dark circles, puffy eyes and eye bags.
Dehydration
Dehydration is a common cause of dark circles under your eyes. When your body is not receiving the proper amount of water, the skin beneath your eyes begins to look dull and your eyes look sunken and hollow. This is due to their close proximity to the underlying bone.
Age
Natural aging is another common cause of those dark circles beneath your eyes. As you get older, your skin becomes thinner. You also lose the fat and collagen needed to maintain your skin's elasticity. As this occurs, the dark blood vessels beneath your skin become more visible causing the area below your eyes to darken.
Diet
A diet that lacks vitamins particularly vitamin B12, E, K and D has been associated with dark circles as per scientific studies.
Smoking
Smoking depletes your body's stores of vitamin C, which is the vitamin responsible for creating healthy collagen in your skin. If you smoke, you may deal with issues like wrinkles, discoloration, and even under-eye bags and dark circles.
Sun overexposure
Overexposure to the sun can cause your body to produce an excess of melanin, the pigment that provides your skin with colour. Too much sun — particularly for your eyes — can cause
pigmentation in the surrounding skin to darken.
Genetics
Family history also plays a part in developing dark circles under your eyes. It can be an inherited trait seen early in childhood, and may worsen as you age or slowly disappear. Predispositions to other medical conditions, such as thyroid disease, can also result in dark circles beneath your eyes.
Science behind Caffeine and Eyeseryl
This vasoconstrictor feature of caffeine is what makes it so popular as an active ingredient in many eye creams. It can temporarily restrict blood flow under your eyes, thus decreasing the appearance of dark circles and puffy eyes.
EYESERYL peptide helps improve the overall appearance of the eye contour by minimising the presence of eyebags and dark circles and by reducing skin damage of this delicate area.
The ability of the peptide to minimise the eyebags volume was recently assessed in a new study performed on male volunteers between 30-65 years old with prominent eyebags that applied a cream containing 1% EYESERYL peptide solution on one eye contour and a placebo cream on the other, twice a day for 28 days.
Under-eye puffiness volume significantly decreased up to 29.7% after 28 days,
MAIN BENEFITS: reduces inflammation, skin brightening, decreases wrinkles and fine lines.
How to use ?
Step 1: Wash The Face
You should wash your face properly before applying eye serum. In order to allow your skin to absorb the eye serum easily, you should be washing your face using water. Prevent washing your face with hot water as it can dry your skin, thus, leaving you with inflamed and redness on the skin. Prefer using cold water as it cleanses your skin thoroughly. Use a gentle cleanser in order to remove dirt and impurities from the skin. It also helps to close the open pores and remove the dead skin cells.
Step 2: Use an eye serum
Now, take few drops of e'clat eye serum and apply onto the under-eye area using the finger ring. Eye serums are easily absorbed by the skin and, hence, you don't need to rub against the skin.
Apply it in the correct way
You should always apply serum using the finger ring or the fourth finger as it is the weakest finger which will ensure that you don't apply too much pressure on the eye area. Prevent applying too much pressure on the skin so that the sensitive skin around the eye is not damaged.
Cover your Eyes
Massage the eye serum in a circular motion and make sure that you cover all the area. You can also use a sunglass as a guideline. Apply eye serum to all the area that is covered by your sunglass. It is always advised to apply a thick layer of the eye serum so that it penetrates deep into the skin and also promote brighter looking skin.
Proper time to apply
'When to apply eye serum' is one of the most searched questions by every woman. Because eye serum contains anti-aging properties, it should be applied 15 minutes before sleeping. It is important for your skin to absorb the eye serum so that it repairs your skin quickly. If you want to apply it in the morning, you can add some eye serum to the moisturizer or sunscreen and apply in the morning.