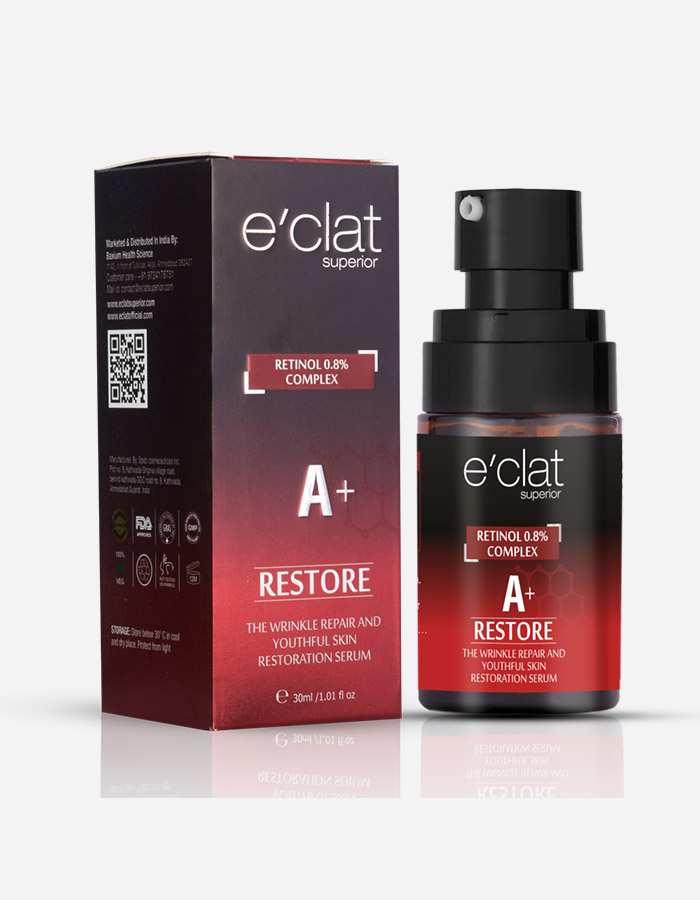 e'clat superior Retinol 0.8% Serum for Fine Lines, Wrinkles & Even Skin Tone – 30 ml
₹1,650.00 MRP (INCLUSIVE OF ALL TAX)
30 ml
Mfg. September 2022
E'clat superior A+ serum helps prevent signs of aging, by boosting the collagen in skin. It will help to remove deep wrinkles and finelines. It's an acne-fighting serum and remove the acne scars too, exfoliater thus unclog pores and prevent further build up. This serum will help you to achieve, smoother texture, Incredible brighter complexion by Diminishing hyperpigmentation, dark sunspots & age spots.
Description
Benefits of e'clat superior Retinol Serum
Retinol, a form of vitamin A, is an ingredient added to skin serum. It has anti-aging effects and can help clear acne.
Retinol increases skin cell production (proliferation). It helps unclog pores. Retinol also exfoliates your skin and increases collagen production, which can reduce the appearance of fine lines and wrinkles, giving your skin a fresher, plump appearance.
A number of factors can cause wrinkles in your skin. As you age, your skin cells divide more slowly. The middle layer (dermis) of your skin begins to thin, it becomes harder to retain moisture, and your skin has less elastin and collagen. Retinol Serum can improve the appearance of fine lines and wrinkles by slowing the breakdown of collagen and making your skin more elastic.
Ingredients
TRetinol .08% Vitamin E 2.0% Hyaluronic Acid 1% Ferulic Acid .8%
Why e'clat Retinol Serum
e'clat retinol serum contains the ultimate combination of Retinol and ferulic acid,which boost each other's effectiveness on the skin. With retinol working at evening the skin tone and increasing firmness, ferulic acid helps retinol reach further into the deeper layers of the skin and promote collagen production. With both powerhouse ingredients tag teaming each other, you are left with a luminous, healthy, even complexion.
HA and Vitamin E in e'clat Retinol Serum increase hydration and reduce oxidation thus result in more soft and supple skin.
SCIENCE OF AGEING
Types of aging
Aging can be categorized into two types and due to two types of factors, intrinsic and extrinsic.
Intrinsic aging vs. extrinsic aging
Intrinsic aging is a genetically predetermined process that occurs naturally. Extrinsic aging is a result of outside factors chose by you, such as where you live, your stress levels, and your lifestyle habits (like smoking).
Cellular aging
Cellular aging is due to intrinsic factors. It's related to the biological aging of cells.
Cells are the basic building blocks of the body. Your cells are programmed to divide, multiply, and perform basic biological functions.
But the more cells divide, the older they get. In turn, cells eventually lose their ability to function properly.
Cellular damage also increases as cells get older. This makes the cell less healthy, causing biological processes to fail. Cellular damage accumulates over time, too.
Damage-related and environmental aging
Damage-related and environmental aging is related to extrinsic factors. It refers to how our surroundings and lifestyle affect how we age.
This includes factors like:
Air pollution
Tobacco smoke
Alcohol consumption
Malnutrition
Ultraviolet radiation (UV) exposure
Over time, these factors can damage our cells and contribute to aging.
Everyone experiences both types of aging. However, each form of aging varies from person to person, which explains why we age in different ways.
How do you use retinol serum ?
Before you use a retinol serum for the first time, try a little bit on a small area of skin (a patch test) to see if you have any negative reactions. If, after a couple of days, your skin patch isn't very red or itchy, you can add retinol to your skincare routine at bedtime.
To use retinol,here are the steps you take:
Clean your skin with a gentle cleanser and pat it dry. Don't scrub your skin while using retinol products.
Apply retinol serum in a thin layer to your entire face (be careful not to get it in your mouth, nose and eyes). You should use a dose that's about the size of a pea. For the first couple weeks of treatment, apply retinol only every other day.
Finish with a facial moisturizer that won't clog your pores (non-comedogenic).
How often can you use retinol serum?
Since retinol can irritate your skin, it's best to start slow. After a patch test, you might use a product once every few days, and then gradually ramp up to once or twice per day. At first, you might experience redness, itching or burning, but these symptoms go away as your skin gets used to the treatment.