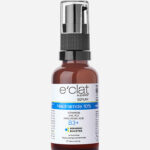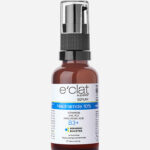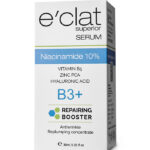 e'clat superior Niacinamide 10% Serum for Skin barrier and Large open pores – 30 ml
₹1,650.00
30 ml
Skin Recovery Base Serum! For Pigmentation, Redness, Skin barrier, Rosacea, Wrinkle and Large pores.
Description
Eclat Serum Niacinamide
Serum Niacinamide (face serum for oily skin) Features
If breakouts and skin blemishes worry you, we at Eclat are here to alleviate your fears with our niacinamide serum for acne.
Eclat's brand new Serum with Niacinamide has been documented to fight against blemishes and skin breakouts and maintain skin balance by keeping sebum levels in check, giving you delicate and bright-looking skin.
Serum Niacinamide Description
A serum made with niacinamide and other nutritious chemicals that help to fight skin blemishes and breakouts by maintaining sebum levels and balancing the skin pH levels.
Niacinamide Serum Benefits- specialized face serum for oily skin
It is understood to have advantageous effects on skin blemishes and acne. It prevents the skin from losing excess water that helps maintain its barrier function and regulate balance. Thus, making it one of the best face serum for oily skin.
Our unique niacinamide serum DIY formula allows our customers to apply and use our product without any specialist intervention.
Serum niacinamide is specially made for sensitive skin types and have moisturizing properties to take care of your skin pH and moisture level.
Serum Niacinamide Ingredients
Niacinamide serum uses a high concentration of niacinamide, another name for Vitamin B3, and essential chemicals for healthy skin like zinc, hyaluronic acid, and D-panthenol.
10 niacinamide serum – Description
Niacinamide is the game-changer ingredient in the serum industry. It helps to restore the skin's essential moisture barrier. As a result, I am giving you spotless, plump, and radiant skin. Must-have face serum for oily skin.
10 niacinamide serum review: The pro-niacinamide is crafted using advanced technology and is dermatologically designed.
So, now you know why the skin industry is going crazy with this magic ingredient.
How to use it?
Niacinamide serum benefits are entirely based on health-conscious ingredients, and niacinamide serum India is a great success. Our unique 10 niacinamide serum DIY formula lets our customers use our product without consulting any dermatologist.
Although, a patch test of any product is recommended before complete application.
Don't forget to share your Eclat Niacinamide Serum Review in the comments section.
10 niacinamide serum reviews- Customers
Mrs. Mehta says, " My skin was full of acne scars and was dull and patchy. I have tried many products and consulted dermatologists. But never got the desired results. But, 10 % niacinamide serum composition worked wonders for my skin. Really glad I came across this product. A game-changer face serum for oily skin." On sharing her Eclat Niacinamide Serum Review.
Visit our 10 niacinamide serum review section for more happy reviews and check the fantastic results.
Eclat Niacinamide Serum Review- Dermatologist
"Never have I felt so smooth and spotless before using this serum. It is magic!"
SG, A Happy Customer, is sharing her experience of the niacinamide serum.