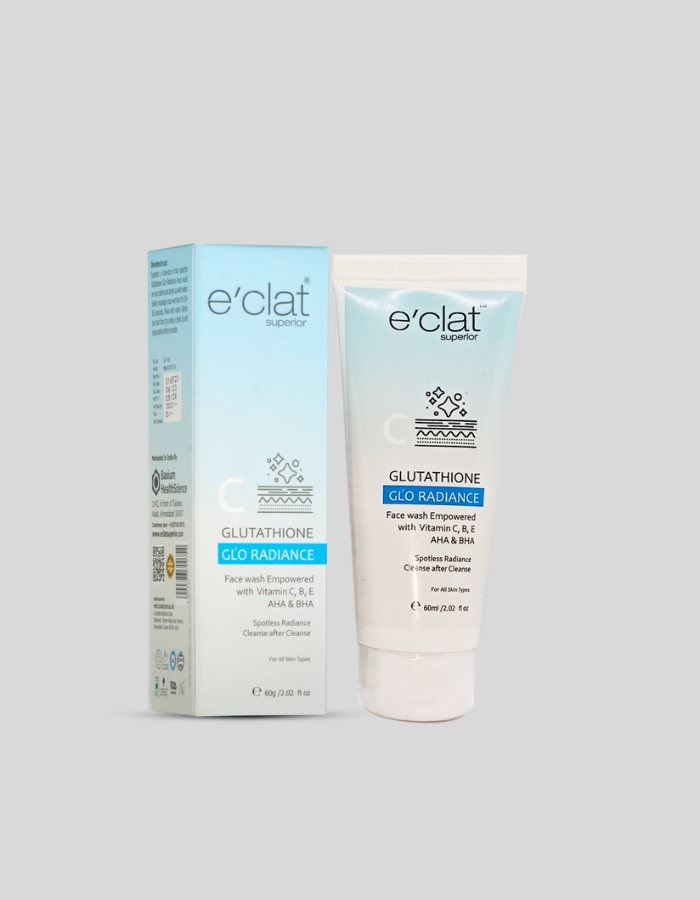 eclat Superior Glutathione Face wash – 60ml
MRP (INCLUSIVE OF ALL TAX)
Spotless Radiance Cleanse after Cleanse
Mfg. date: June 2023
60 gm
e'clat superior Glutathione Glo Radiance Face wash removes every last trace of dirt, excess oil, pollutant and unwanted skin cells from your face, for clearer, brighter and more youthful-looking skin. A milky texture and a balanced pH help maintain your skin's natural balance.
Description
Product Description:
Are you tired of dull, lifeless skin that lacks its natural glow? Say goodbye to lackluster complexion and hello to the radiant, youthful look you deserve with e'clat glo radiance face wash! With our unique blend of powerhouse ingredients, including Glutathione, Vitamin C, Niacinamide (Vitamin B3), Panthenol (Vitamin B5), and AHA, e'clat glo radiance face wash is the key to unlocking your skin's true potential. Embrace a confident, glowing complexion that will make heads turn wherever you go! Try e'clat glo radiance face wash today and see the transformation for yourself. Your skin deserves the best!
Directions to use face wash:
Start by splashing your face with lukewarm water. Make sure your face is thoroughly wet before applying the face wash.
Take a small amount of e'clat glo radiance face wash in your palm. Gently massage the face wash onto your wet skin using your fingertips. Focus on areas such as the forehead, cheeks, nose, and chin.
Massage the face wash into your skin using circular motions for about 1-2 minutes.
Rinse your face thoroughly with lukewarm water.
Gently pat your face dry with a clean towel.
Product benefits:
ADVANCED FORMULATION: Our e'clat glo radiance face wash boasts an impressive blend of premium ingredients which includes Glutathione, Vitamin C, D-panthenol, AHA, BHA, Kojic acid, Licorice, Vitamin E, Niacinamide, and Resorcinol. Each ingredient has been thoughtfully selected to work in harmony, delivering exceptional results for your skin.
UNLEASH YOUR NATURAL GLOW: Glutathione and Vitamin C, known for their antioxidant properties, help to brighten and even out your skin tone, leaving you with a youthful, radiant glow. D-panthenol and Vitamin E deeply nourish and hydrate, restoring your skin's natural moisture balance and enhancing its overall vitality.
EXFOLIATE AND REVEAL FRESHNESS: The presence of AHA (Alpha Hydroxy Acid) and BHA (Beta Hydroxy Acid) in our formula helps to gently exfoliate your skin, sloughing away dull, dead skin cells and unclogging pores. This rejuvenating action promotes cell turnover, revealing a fresh, rejuvenated complexion that feels remarkably smooth and refined.
COMBAT UNEVEN PIGMENTATION: Kojic acid, Licorice, and Niacinamide join forces to combat hyperpigmentation, age spots, and uneven skin tone. These ingredients work together to fade dark spots and blemishes, resulting in a more even, luminous complexion that exudes confidence.
Elevate Your Skincare Ritual and experience the e'clat difference e'clat skin care range effortlessly fits into your daily skincare routine. Indulge in a luxurious sensory experience. At e'clat, we are committed to creating high-quality skincare products that harness the power of nature to nourish and enhance your skin. Our skin care range is meticulously formulated, ensuring that you receive a product that is gentle yet effective, delivering visible results that you can truly see and feel.
You may also like…
MRP (INCLUSIVE OF ALL TAX)
MRP (INCLUSIVE OF ALL TAX)
MRP (INCLUSIVE OF ALL TAX)