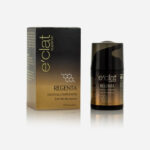 eclat Regenta Growth Factor (EGF) Serum for Fine lines, Wrinkles & Skin Repair for Mature Skin
MRP (INCLUSIVE OF ALL TAX)
Mfg. May 2022
•Reduces the appearance of fine lines and wrinkles.
•Increases skin thickness and density.
•Restores youthful radiance
•Improves skin texture and elasticity.
•Brightens complexion.
•Moisturizes skin.
•Helps to repair damaged skin.
•Promotes healthy cell turnover.
Description
This is an ultimate anti aging serum that is designed for those who always want to treat their skin in a special way to nourish, repair, and rejuvenate for a timeless radiant, & youthful complexion.
eclat Regenta Bio Serum EGF (Epidermal Growth Factor is a most premium anti-aging skin care ingredient) formulated with a proven blend of Olivem 1000, Hyaluronic Acid, Oatmeal Lipid Oil, Alpha-Arbutin, & Licorice Extract.
EGF (Epidermal Growth Factor) helps stimulate collagen production, reducing the signs of aging such as fine lines and wrinkles.
BENEFITS OF THE BEST ANTI AGING SERUM
Skin Repair: The eclat Regenta EGF Bioserum Serum promotes skin repair, helping to reduce the appearance of fine lines, wrinkles, and other signs of aging.
Hydration and Moisture Retention: Hyaluronic Acid and Oatmeal Lipid Oil Aquaxyl deeply hydrate the skin, leaving it plump, supple, and well-nourished.
Brightening and Even Complexion: Alpha-Arbutin and Licorice Extract work together to brighten dark spots and uneven skin tone, promoting a more even & radiant complexion.
Skin Elasticity: SH-Oligopeptide supports collagen production, enhancing skin elasticity and firmness, resulting in a smoother and more youthful-looking skin texture.
Nourishment and Protection: Olivem 1000 delivers essential nutrients to the skin, while Niacinamide provides antioxidant benefits and helps protect against environmental stressors.
INGREDIENTS:
Olivem 1000, Sh-Oligopeptide-1, Hyaluronic acid, Oatmeal Lipid Oil Aquaxyl, Niacinamide, Alpha Arbutin and Licorice Extract
HOW TO USE:
Cleanse your face thoroughly and pat dry.
Apply a few drops of eclat Regenta EGF Bio Serum to your fingertips.
Gently massage the serum onto your face and neck in upward, circular motions.
Allow the serum to absorb fully before applying any additional skincare products or makeup.
For best results, use morning and evening as part of your skincare routine.
The most luxurious and expensive Anti Aging bio serum is the most trusted Anti ageing serum worldwide. Experience the transformative effects of this powerful serum and unveil a complexion that exudes vitality and beauty. Embrace the confidence that comes with healthy, rejuvenated skin—eclat Regenta EGF Bioserum – Your key to timeless beauty.
ECLAT SERUM BEST VALUE FOR YOUR MONEY AND THE BEST SKIN CARE ASSURED
As a skincare company, we understand the importance of a complete skincare routine, which is why we have made Regenta complete anti-aging skin care, which will include a cleanser, toner, and sun sunscreen with Bio serum to ensure your timeless beauty.