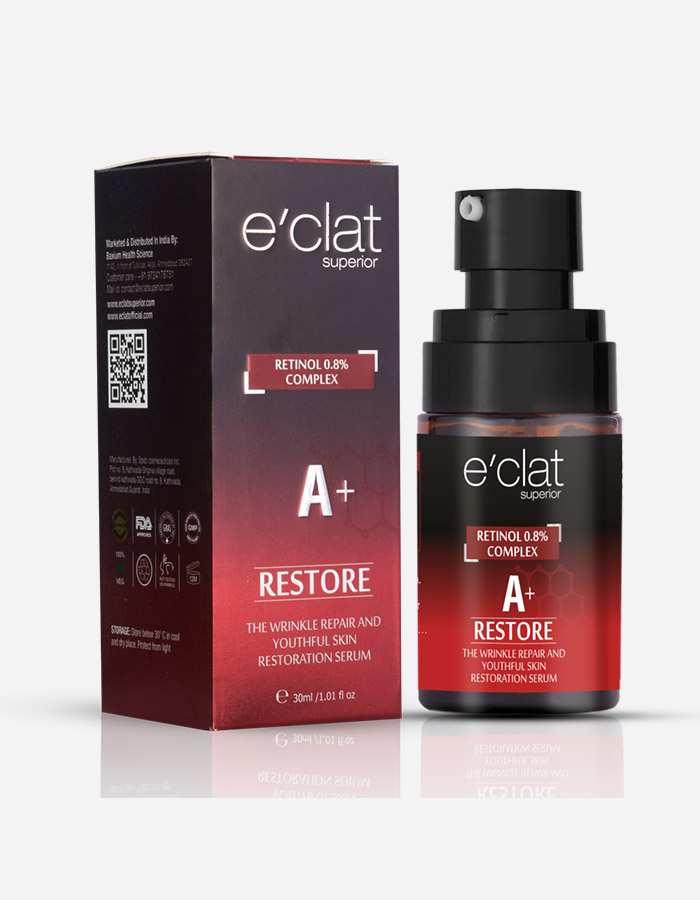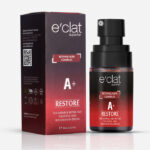 eclat Retinol Serum-The Best Retinol Serum For Anti-Aging and Age Defying – 30ml
₹1,650.00 MRP (INCLUSIVE OF ALL TAX)
30 ml
Mfg. December 2022
•Reduces the appearance of wrinkles and fine lines
•Stimulates collagen production for improved skin elasticity to enhance Flawless Radiance with smooth skin texture
•Promotes cellular turnover for a brighter complexion
•Provides antioxidant protection against free radicals and environmental damage
Description
Avail the best offers on your favorite serum.
The coupon code you can use to avail of the best offer is FT 20. This code will give you a 20% flat discount on your order and a free Day Defence Serum worth Rs. 1650 with your favorite retinol serum. The offer is valid for prepaid orders only.
THE RETINOL SERUM DESCRIBED:
e'clat retinol serum is the best retinol serum if you want to buy the best age-defying or anti aging serum to reduce fine lines and wrinkles!
This is the best retinol serum not only helps to reduce the appearance of fine lines and wrinkles but also even out skin tone, giving you that brighter radiant glow.
It is packed with proven ingredients and designed to be easily incorporated into your skincare routine even for beginners so it's the best retinol serum for beginners.
The right age to start Retinol Serum in your skincare is your early 30s to restore your timeless beauty.
BEST RETINOL CREAM OR BEST RETINOL SERUM?
Serum is always an higher concentration of actives with better penetration so it's always more effective than cream.
Best Value for your money and the Best Skincare Assured
As a skincare company we understand applying Sunscreen is a must in your skincare and to ensure that application in your skincare we offer the best Day Defence Serum worth Rs.1650 complimentary with your Retinol Purchase.
BENEFITS OF BEST RETINOL SERUM IN ANTI-AGING SKIN CARE :
MOST ADVANCED RETINOL FORMULATION :
e'clat retinol serum offers the best formulation Retinol+Ferulic Acid+Hyaluronic Acid and Vitamin E which helps to stimulate collagen production, reduces fine lines, wrinkles and enhances skin elasticity which results in a firmer, smoother complexion of the skin which will exude youthful radiance and restore your timeless beauty. Ferulic Acid &Vitamin E shields your skin from damaging free radicals and environmental stressors.
RETINOL SERUM WITH HYALURONIC ACID TO ENHANCE HYDRATION AND PLUMPING POWER:
e'clat retinol serum contains the best Hyaluronic Acid which helps to retain water within the skin. It helps to restore moisture balance, resulting in a plumper, more flawless, youthful complexion. The water inside your cells minimizes the appearance of fine lines and wrinkles, providing a smoother canvas for your makeup application.
INGREDIENTS
Retinol 0.8% Vitamin E 2.0% Hyaluronic Acid 1% Ferulic Acid 0.8%
SCIENCE OF AGEING
Types of aging
Aging can depend on two types of factors, intrinsic and extrinsic.
Intrinsic aging vs. extrinsic aging
Intrinsic aging is a genetically predetermined process that occurs naturally. Extrinsic aging is a result of outside factors chosen by you, such as where you live, your stress levels, and your lifestyle habits (like smoking).
Cellular aging
Cellular aging is due to intrinsic factors. It's related to the biological aging of cells.
Damage-related and environmental aging
Damage-related and environmental aging is related to extrinsic factors. It refers to how our surroundings and lifestyle affect how we age. This includes factors like:
Air pollution
Tobacco smoke
Alcohol consumption
Malnutrition
Ultraviolet radiation (UV) exposure
Over time, these factors can damage our cells and contribute to aging. Everyone experiences both types of aging. However, each form of aging varies from person to person, which explains why we age in different ways.
HOW TO INCORPORATE RETINOL SERUM IN YOUR SKINCARE ROUTINE
1. Ensure that your face is thoroughly cleansed and dried before applying the serum.
2. Apply a small amount of the serum to a discreet area of your skin and wait for 24 hours to check for any adverse reactions.
3. Take a pea-sized amount of the e'clat Retinol Serum onto your fingertips.
4. Gently massage the serum onto your face using circular motions. Focus on areas of concern, such as wrinkles, fine lines, or uneven skin tone.
5. Allow the serum to fully absorb into your skin before applying any additional skincare products.
DERMATOLOGIST NO. 1 CHOICE
The formulation of eclat Retinol serum is the best formulation and gives the best results in aging skin that's why it is recommended by dermatologists.
HOW OFTEN CAN YOU USE RETINOL SERUM?
Since retinol can irritate your skin, it's best to start slowly. After a patch test, you might use a product once every few days, and then gradually ramp up to once or twice per day. At first, you might experience redness, itching, or burning, but these symptoms go away as treatment goes on.