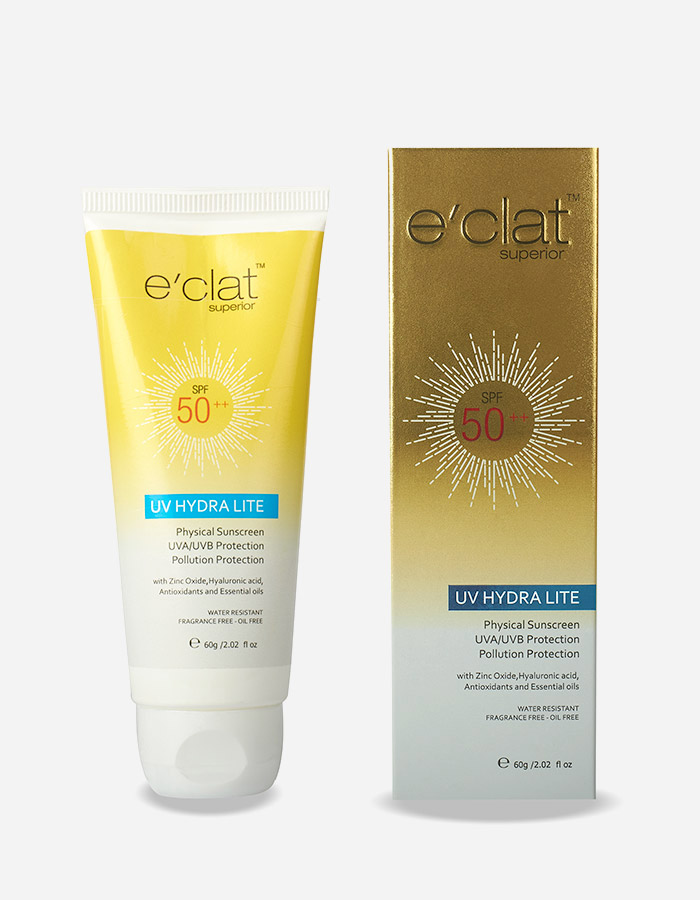 e'clat superior UV HYDRA LITE Sunscreen
₹990.00
Weight: 60 gm
Physical Sunscreen
UVA/UVB Protection
Pollution Protection
Description
BENEFITS
Physical Sunscreen, UVA/UVB Protection, Pollution Protection with Zinc Oxide, Hyaluronic acid, Antioxidants and Essential oils
E'clat sunscreen gel broad spectrum is designed to protect the skin from UVA and UVB rays. Formulated with Hyaluronic acid, Antioxidants & essential oils to boost skin moisture and reduce appearance of fine lines and wrinkles. It defends skin against oxidative stress. Improves skin complexion, texture, and tone. This UV Hydra Lite sunscreen is Lightweight, non-greasy texture & ideal for daily use on all skin types.
Ingredients
Zinc Oxide, Triethoxycaprylylsilane, Titanium Dioxide, Silica, Dimethicone, Vitamin C, Niacinamide, Hyaluronic acid, Biosaccharide Gum-4, C12-15 alkyl benzoate, Caprylic/capric triglyceride, cyclopentasiloxane and Dimethicone cross polymer, Olive oil, Shea butter, Xanthan Gum, Sodium Gluconate, Benzophenone-4, Black seed oil, Silicone Base.
Direction for use
Apply liberally & evenly on the face, Neck and exposed area of the skin 15 minutes before sun exposure. Re-apply every 2 hours if continuous Sun exposure, swimming or excessive perspiration. Not to be used in children below 3years.
Sun Care or Daily Day Proactive skin care ?
The science of sun protection perfectly intersects the worlds of health and beauty. 
Sun care is only part of skin care. To be complete, skin care requires a daily day proactive total skin care regimen. 
Research documents that sun exposure and air pollution especially, but also tobacco smoke and cosmetic products, initiate damage that drives premature skin aging such as fine lines, wrinkles, loss in elasticity, dryness, pruritus and age spots. 
Lack of Hydration and increased ROS is also responsible for premature ageing and systemic health. 
More than 50% of ROS (Responsible for pre mature ageing ) formation stems from radiation outside the UV spectral region and therefore cannot be prevented by sunscreens. 
e'clat superior UV Hydralite is a complete daily day proactive skin care can affect not only skin's own appearance and health, but possibly overall systemic health as humans progress into older age.  
It's unique formulation 50++ Physical SPF [high-performance formula using zinc (at 20%) and Titenium Di Oxide as its only filter]. pollushield, antioxidants and hydrating agents makes it complete daily day proactive skin care regimen.