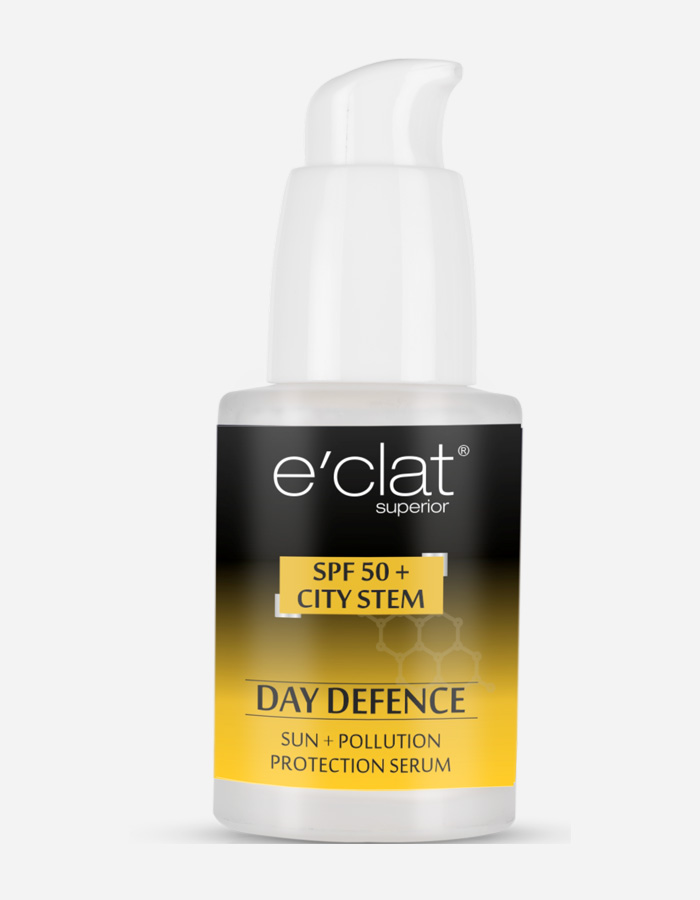 eclat Day Defence Sun + Pollution Protection Sunscreen Serum – SPF 50+
₹1,650.00 MRP (INCLUSIVE OF ALL TAX)
30 ml
Mfg. July 2023
• Protection against UV rays
• Protection against urban pollution
• Nourishment and hydration for glowing skin
Description
Avail the best offers on your favorite serum.
The coupon code you can use to avail the best offer is FT 20. This code will give you a 20% flat discount on your order.
DAY DEFENCE SERUM BENEFITS:
• Comprehensive protection: e'clat Day Defence serum combines powerful ingredients like City Stem, Vitamin E, D-Panthenol, and Ferulic acid which provides your skin protection against environmental stressors, urban pollution, and harmful UV rays.
• Radiant complexion:  Helps to brighten the skin, fade dark spots, and even out skin tone, resulting in a radiant and luminous complexion that exudes confidence.
• Nourishment and hydration: Deeply nourishes the skin, enhances moisture retention, and leaves it feeling supple and hydrated.
• Anti-aging powerhouse:  Reduces the appearance of fine lines and wrinkles. it also helps to combat signs of aging, providing a more youthful and rejuvenated look.
• Skin barrier support:  Strengthens the skin's barrier, promoting a healthy and resilient complexion. This helps to minimize the impact of environmental stressors, leaving your skin better equipped to face daily challenges.
INGREDIENTS
Avobenzone, Homosalate, Octisalate, Oxybenzone, Octinoxate, Copolymer, Cetyl Alcohol, Cyclopentasiloxane, Dimethiconol, Trimethylglycine, Xylitylglucoside and Anhydroxylitol and Xylitol, Isopropyl Myristate, Hyaluronic Acid, Vitamin E, D-Panthenol, Ferulic Acid, City Stem, Ethylhexylglycerin, Colloidal Oatmeal powder
HOW TO USE:
1. Start by cleansing your face to remove any dirt, oil, or previous skincare products.
2. Take a small amount of e'clat day defence serum onto your fingertips or the palm of your hand.
3. Gently dot the e'clat day defence serum on different areas of your face, focusing on the forehead, cheeks, nose, and chin. Spread the serum evenly across your face and neck, ensuring complete coverage.
4. Give the e'clat day defence serum a few minutes to fully absorb into your skin.
5. Reapplication of day defence serum is vital for maintaining protection throughout the day.
The best sunscreen serum with SPF 50+ shields your skin from UVA and UVB rays. Ensuring your skin stays healthy and vibrant.
City Stem Technology acts as a shield against the harmful effects of urban pollution. This technology forms an invisible barrier on your skin, safeguarding it from pollutants while allowing it to breathe freely.
FREQUENTLY ASKED QUESTIONS
Q: Why day defence serum is better than other sunscreen serums?
A: This serum contains City Stem technology, which forms an invisible shield to protect your skin against the harmful effects of urban pollution and environmental stressors. It also offers SPF 50 protection against UV rays.
Q: How should I incorporate e'clat Day Defence Serum into my skincare routine?
A: e'clat day defence can fulfill the daycare regimen as it contains advanced ingredients, but for the night regimen you can prefer serum according to your skin concern.
Q: Can I use e'clat Day Defence Serum alongside other skincare products?
A: It can be incorporated into your existing skincare routine. It pairs well with other serums and moisturizers. However, if you have any concerns or specific skin conditions, it is recommended to consult with a dermatologist.