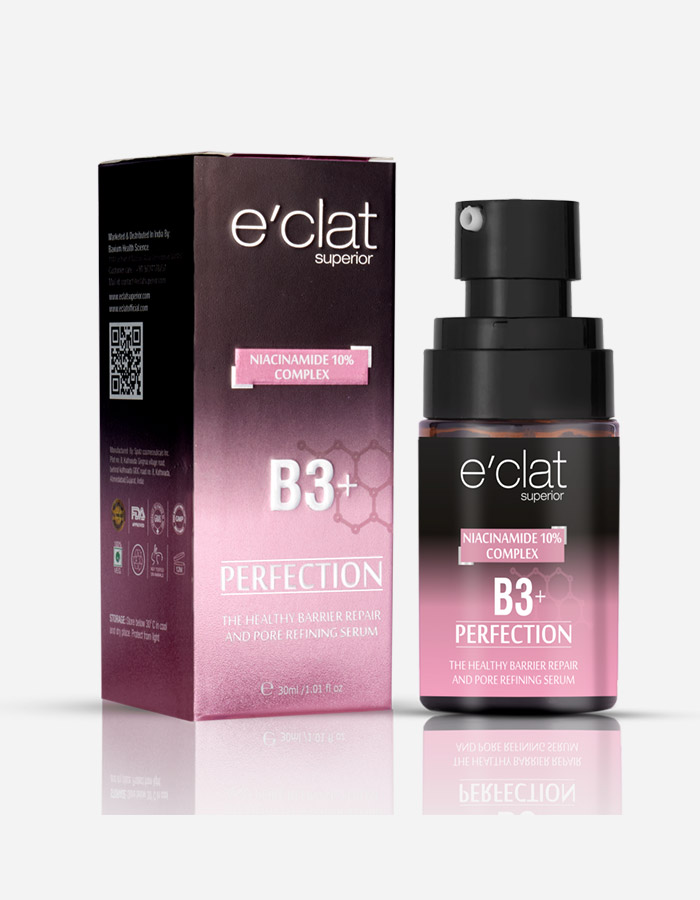 eclat Niacinamide 10% Serum- the Best Niacinamide Serum for Skin barrier and open pores – 30 ml
₹1,650.00 MRP (INCLUSIVE OF ALL TAX)
30 ml
Mfg. February 2023
• Reduce the appearance of open Pores
• Regulates excess oil production
• Improves Skin Texture
• Strengthen the skin barrie
• Treats Acne
• Brighten The Skin
Description
Avail the best offers on your favorite serum.
The coupon code you can use to avail of the best offer is FT 20. This code will give you a 20% flat discount on your order and a free Day Defence Serum worth Rs. 1650 with your favorite niacinamide serum. The offer is valid for prepaid orders only.
Here we introduce eclat niacinamide serum (B3+) packed with proven ingredients. These ingredients work together to improve skin texture, regulate sebum production, provide deep hydration, and offer a soothing effect to the skin.
This serum is suitable for all skin types as it contains zinc PCA which makes this serum suitable for oily skin and it also contains hyaluronic acid, which makes this serum suitable for dry skin. you can easily incorporate eclat niacinamide serum into your skincare routine, whether you have dry or oily skin.
INGREDIENTS:
Niacinamide 10% D Panthenol 2 % Hyaluronic Acid 1% Zinc PCA 1%
Strength the skin barrier: niacinamide promotes the production of ceramides and elastin which help to strengthen the skin barrier that will result in hydrated and healthy skin.
Regulate excess oil production: It helps to balance the sebum production which makes skin less vulnerable to whiteheads and blackheads.
Reduce the appearance of open pores: It helps to clear all the congested skin pores, shrink them and make them less visible which will improve the skin texture.
Treats acne: It helps to cleanse the skin pores of any bacterial infection which will reduce the breakout of acne in the near future.
Soothes irritation: niacinamide possess anti-inflammatory properties which help to treat various skin challenging skin condition like rosacea and eczema.
WHAT CAN NIACINAMIDE SERUM DO YOUR SKIN?
Vitamin B3  reduces the appearance of skin blemishes and congestion, whilst balancing natural sebum levels for a shine-free complexion.
Zinc PCA is an anti-inflammatory, commonly used to treat scars and fight against free radicals, it boosts the capacity of Niacinamide to control sebum production. Panthenol and Hyaluronic Acid deliver essential moisture that helps hydrate, soothe, and lock moisture into the skin.
Niacinamide makes a big difference in complexion. "It helps even skin tone and improves the appearance of enlarged pores and dullness. Niacinamide can increase natural lipids while decreasing water loss. Hyaluronic acid will help skin become smoother and more hydrated. Vitamin B5 (Panthenol) does that too. So it's a double hydration substance in one product. Zinc PCA manages sebum activity and prevents breakouts.
WHY ECLAT NIACINAMIDE SERUM IS THE MOST FAVOURITE BRAND OF DERMATOLOGIST?
Dermatologists appreciate the proven efficacy of niacinamide in addressing various skin concerns.
Niacinamide is the most powerful ingredient that offers a range of benefits for the skin such as improving skin texture, minimizing the appearance of pores, and enhancing overall skin barrier function.
Niacinamide causes no irritation, is well tolerated, and is noncomedogenic compared to other active ingredients. that is why dermatologists love to recommend niacinamide serum
HOW TO USE THE BEST NIACINAMIDE SERUM:
1. Cleanse your face thoroughly and pat dry.
2. Apply a few drops of eclat niacinamide serum to your fingertips.
3. Gently massage the serum onto your face and neck using upward strokes until fully absorbed.