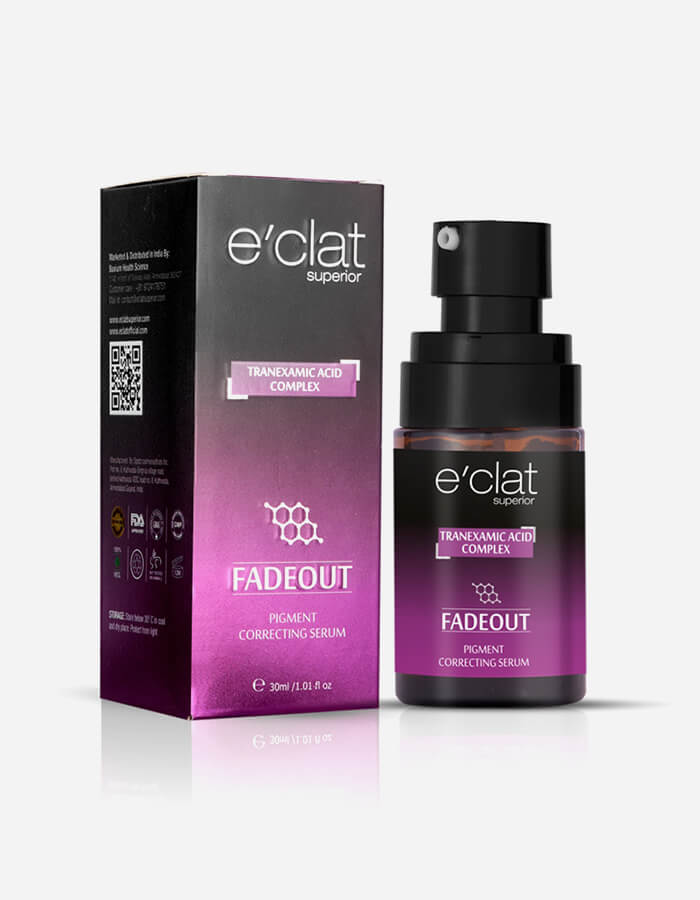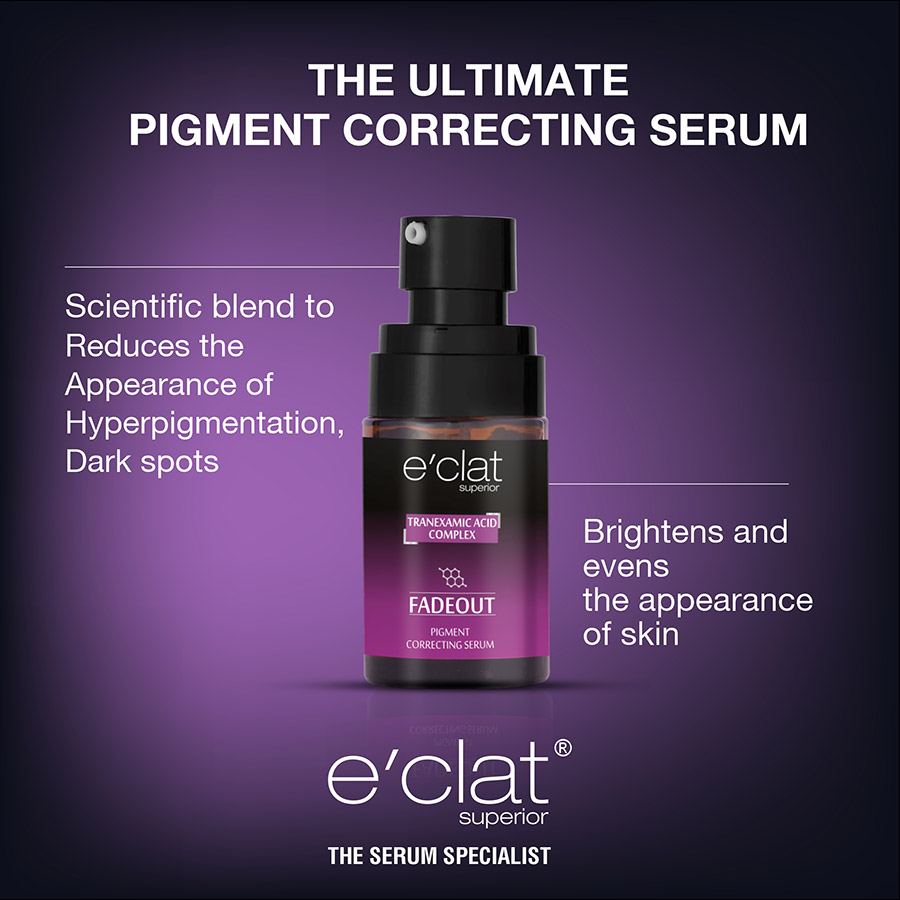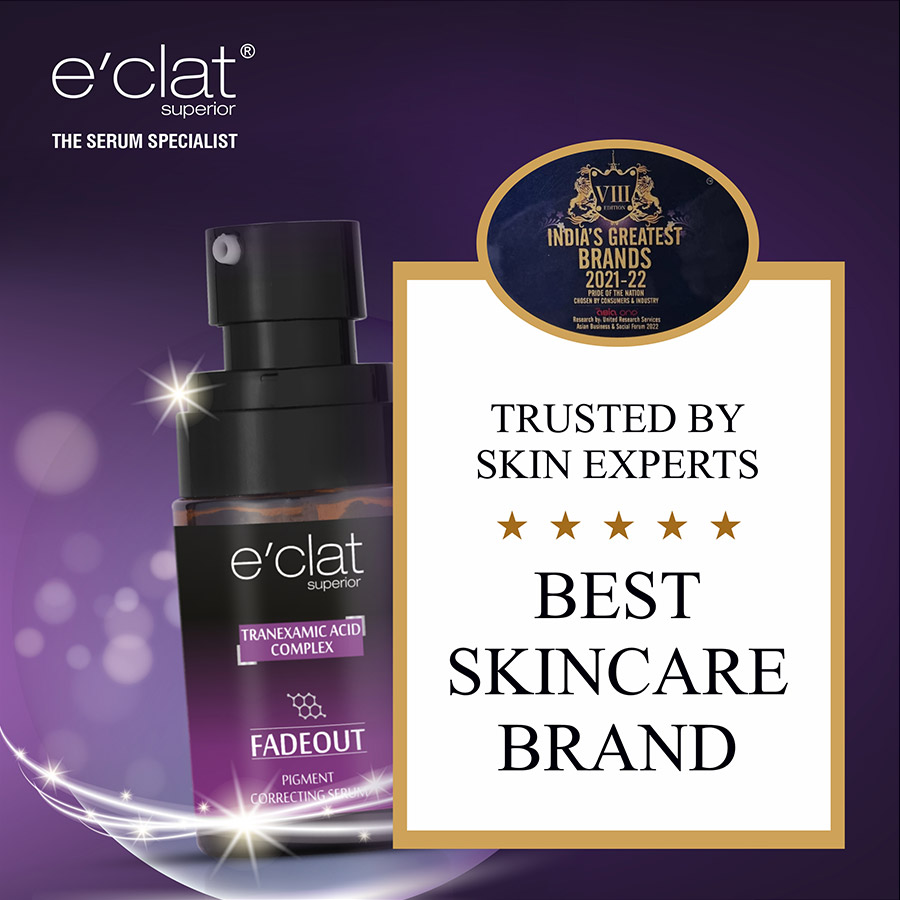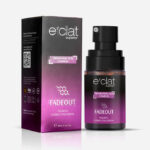 eclat Fadeout Serum to remove Pigmentation and Dark spots 30 ml
₹1,900.00 MRP (INCLUSIVE OF ALL TAX)
Mfg. February 2023
Fadeout Helps in :
•Remove Hyperpigmentation
•Remove dark spots
•Reduces melasma
•Removes acne spots
•Fades Dark Facial Spots
•Corrects Uneven SkinTone
•Skin brightening
•Radiant Complexion
•Remove pigmentation around mouth
Description
Avail the best offers on your favorite serum.
The coupon code you can use to avail the best offer is FT 20. This code will give you a 20% flat discount on your order and a free Day Defence Serum worth Rs. 1650. The offer is valid for prepaid orders only.
Description of e'clat fadeout pigment correcting serum:
Say goodbye to stubborn dark spots and uneven skin tone with our powerful and effective e'clat fadeout pigment correcting serum. e'clat fadeout pigment correcting serum is specifically designed to remove and fade pigmentation, revealing a brighter and more radiant complexion. e'clat Fadeout serum reduces the production of Melanin (Responsible for Pigmentation) deep inside the skin, lightening the pigmented marks & help speed up recovery to achieve a flawless crystal clear complexion. Invest in your skin and reclaim your natural glow.
Benefits of e'clat fadeout pigment correcting serum:
HELPS IN PIGMENTATION REDUCTION: Fadeout serum is specially formulated to remove hyperpigmentation concerns, working at a cellular level to fade dark spots, age spots, and
melasma.
ADVANCED FORMULATION: The lightweight and non-greasy unique combination of azelaic acid, tranexamic acid, and niacinamide ensures quick absorption and creates a powerful synergy that intensifies the serum's effectiveness in removing pigmentation thus giving visibly brighter skin.
EVEN SKIN TONE: With consistent use, the serum helps even out skin tone, providing a more uniform complexion and overall improvement in your skin clarity and texture.
IMPROVED SKIN TEXTURE: Niacinamide, a key ingredient in our serum, not only fades pigmentation but also promotes a smoother, more refined skin texture, resulting in a youthful and radiant appearance.
Elevate Your Skincare Ritual and experience the e'clat difference
e'clat skincare range effortlessly fits into your daily skincare routine. Indulge in a luxurious sensory experience. At e'clat, we are committed to creating high-quality skincare products to nourish and enhance your skin glow.
eclat fadeout serum Best Value for your money and the Best Skincare
Assured
As a skincare company, we understand applying Sunscreen is a must in your skincare and to ensure that application we offer the best Day Defence Serum worth Rs.1650 complimentary with fadeout Purchase.
Types of hyperpigmentation
There are several types of hyperpigmentation, the common ones being melasma, sunspots, and post-inflammatory hyperpigmentation. Melasma. Melasma is believed to be caused by hormonal changes and may develop during pregnancy. They appear most commonly on the face. Sunspots. Also called liver spots or solar lentigines, sunspots are common. They're related to excess sun
exposure over time. Generally, they appear as spots on areas exposed to the sun, like the hands and face. Post-inflammatory hyperpigmentation. This is a result of injury or inflammation of the skin. A common cause of this type is acne.
Ingredients of pigment correcting serum:
Azelaic Acid, Tranexamic Acids 1.78% Licorice Extract, 4-Butylresorcinol, Niacinamide 5%, Phytic Acid 5%
FADE OUT Is The Safe And Effective Answer To Hyperpigmentation:
Skin hyperpigmentation is one of the major dermatological concerns, with a high prevalence in the Indian population. The best available treatment is topical depigmenting serum. A common cause of hyperpigmentation is excess production of melanin. Melanin is a pigment that gives skin its color, produced by melanocytes.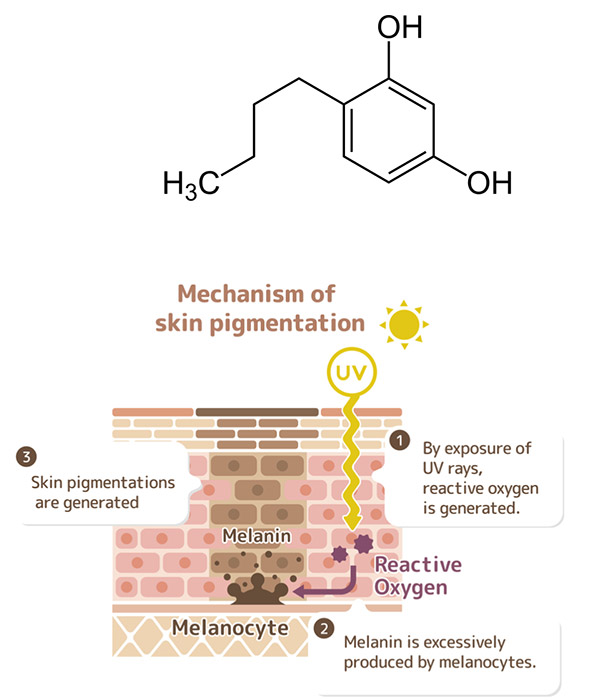 e'clat superior fadeout out is a scientific blend of 4-n-butyl resorcinol with AzelaicAcid, Tranexamic Acid, Niacinamide, Licorice, and Phytic Acid. Furthermore, considering the fact that Indian skin is more prone to irritation with hypopigmented agents. Clinical studies reveal the treatment is well tolerated by all the study subjects. No adverse reactions were reported throughout the study period.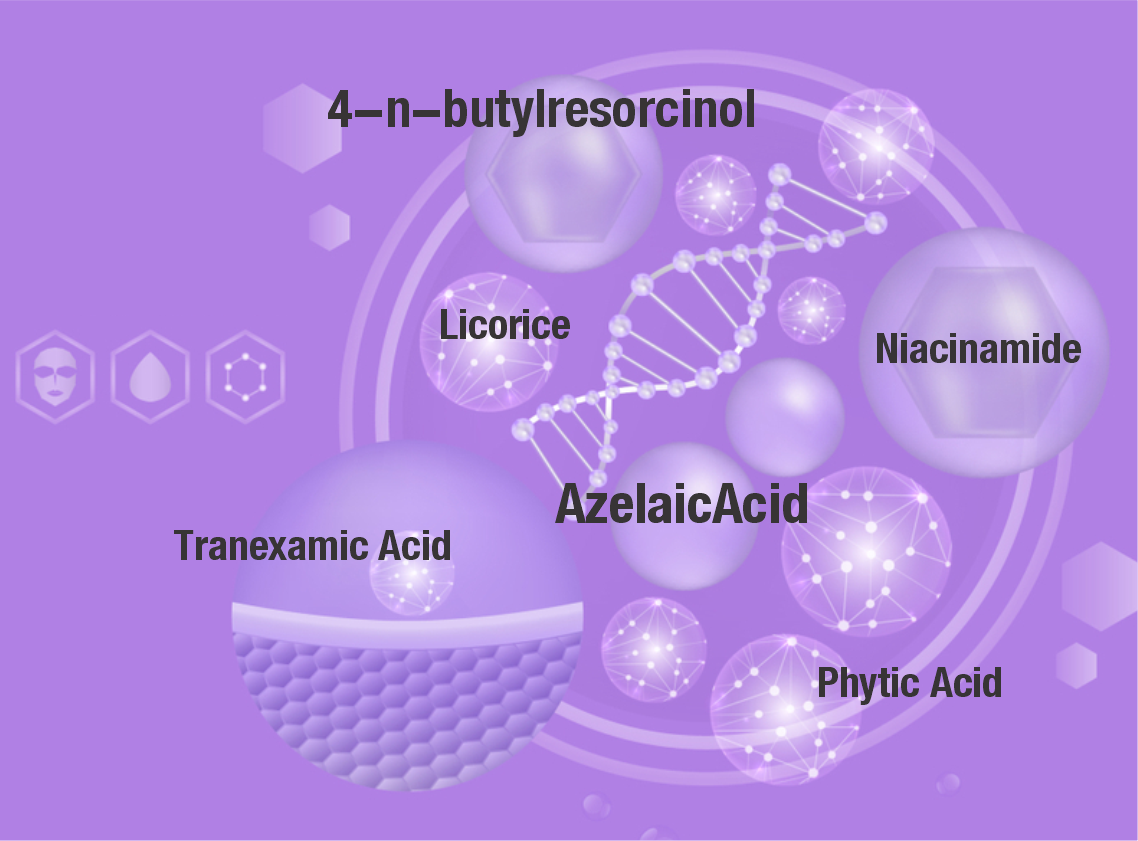 Azelaic Acid
Azelaic acid is the best treatment for skin pigmentation, including melasma and postinflammatory hyperpigmentation, particularly in those with darker skin types. It is a better alternative to hydroquinone. As a tyrosinase inhibitor, azelaic acid reduces the synthesis of melanin.
Tranexamic acid (TA)
Tranexamic acid is the most promising ingredient to treat pigmentation and melasma due to its whitening effects, especially for ultraviolet-induced hyperpigmentation, including melasma.
4-N-Butylresorcinol
Hyperpigmentation has a number of different causes, is difficult to treat, and requires a long-term approach and management to treat. A relatively new-comer 4-n-Butylresorcinol (4nB)– Based on clinical studies, 4nB has proven to be the most effective depigmenting agent, producing less irritation than the alternatives. The most promising (4-n-Butylresorcinol-based) product can help both in the treatment of melasma and in skin rejuvenation. In comparison to Hydroquinone, Arbutin, and Kojic acid, 4nB has demonstrated superior tyrosinase inhibition ability.
Niacinamide
A study done on the pigmented reconstructed epidermis (PREP) showed that niacinamide interferes with the interaction between keratinocytes and melanocytes, thereby inhibiting melanogenesis and reducing hyperpigmentation. It also modulates the protease-activated receptor (PAR-2) responsible for the transfer of melanosomes from melanocytes to surrounding
keratinocytes. Clinical trials using 2% niacinamide have shown that it significantly reduces the total area of hyperpigmentation and increases skin lightness.
Licorice extract
Licorice extract reduces hyperpigmentation by dispersing the melanin, Studies have shown that licorice prevents Ultraviolet B (UVB) induced pigmentation.
Phytic Acid
Phytic acid is a milder AHA used for exfoliation and skin lightening. The 2% phytic acid is soothing and allows for a lower pH formulation and exfoliation and lightening properties.
How To Use fadeout serum to Remove Pigmentation
Use as part of your night skincare regimen.
Cleanse your face thoroughly, removing any makeup or impurities.
Take a small amount of e'clat fadeout serum on your fingertips or
palm.
Apply the thin layer of serum gently to the affected areas or your
entire face, depending on your needs.
Massage the serum into the skin using upward circular motions until
fully absorbed.
Allow the serum to dry completely before applying any other skincare
products.
Protect with Moisturiser or Night cream for additional skincare
benefits.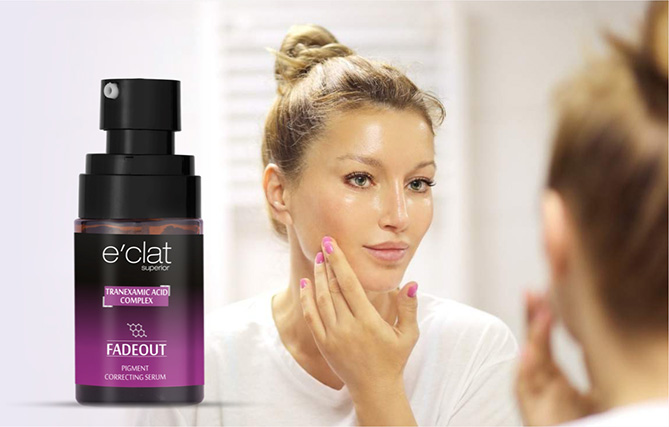 FAQ Related to Best Pigment Correcting Serum.
Q: How does e'clat fadeout Anti Pigmentation Serum work?
A: The combination of key ingredients in e'clat fadeout Anti Pigmentation Serum works synergistically to target various aspects of pigmentation. Azelaic acid and Tranexamic acid help to inhibit melanin production, reducing the formation of dark spots. Niacinamide and Licorice contribute to brightening the skin and evening out skin tone. Resorcinol and Phytic acid promote cell turnover, helping to fade existing pigmentation.
Q: What could be the best time to use the e'clat fadeout serum?
A: the best time to use e'clat fadeout serum is at night.
Q: Can e'clat fadeout serum be used during the daytime?
A: e'clat fadeout anti-pigmentation serum could be used during the daytime but it should be used with sunscreen or our newly developed day defence serum.
Q: How long will it take to see results with e'clat fadeout
Serum?
A: Individual results may vary, but noticeable improvements can often be seen within a few weeks of consistent use. However, for more significant improvements, it is recommended to use the product for at least 6 to 8 weeks. Consistency and regular usage are key to achieving optimal results.
Q: Can I use e'clat fadeout Serum with other prescribed skincare
products?
A: it is advisable to consult with a dermatologist or skincare professional to ensure compatibility and avoid any potential interactions.
Feedback
Result of fadeout in two months! I cannot thank you enough for this gem product, I was on benzoyl peroxide treatment for acne when Is started using fadeout, benzoyl helped me for actives and fadeout really helped me with pigmentation, acne spots, and scarring, JUST LOOK AT MY SIDE OF NECK, all spots are 90% already fades, still a long way to go!

Feedback
Such a good morning it is. see the fadeout effects. Fadeout & Regenta do magic on my skin…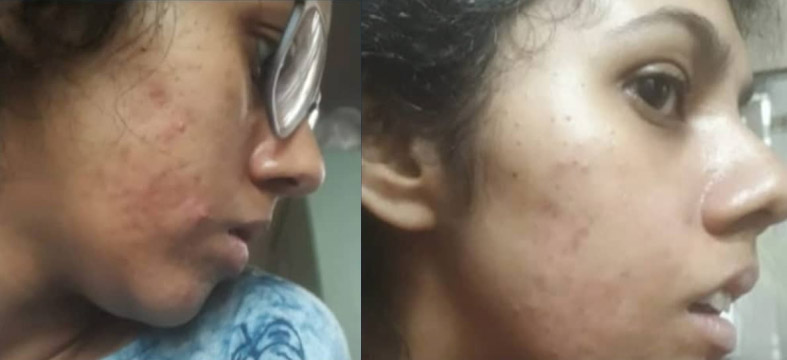 Feedback
Hey ! I am using eclat fadeout pigment correcting serum only. It works vry well.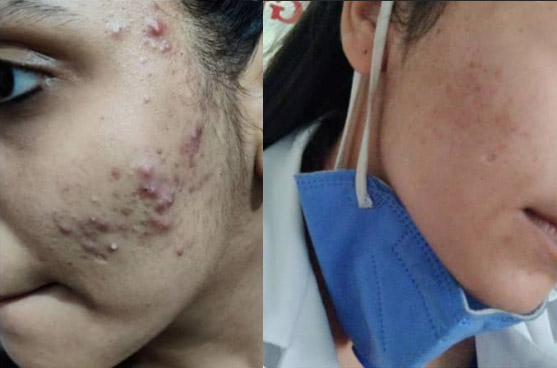 FEEDBACK
Eclat fadeout and Vit C serum just changed my skin. Still in process but am sooooo happy with the results!!! Even my mom loves eclat Vit C.