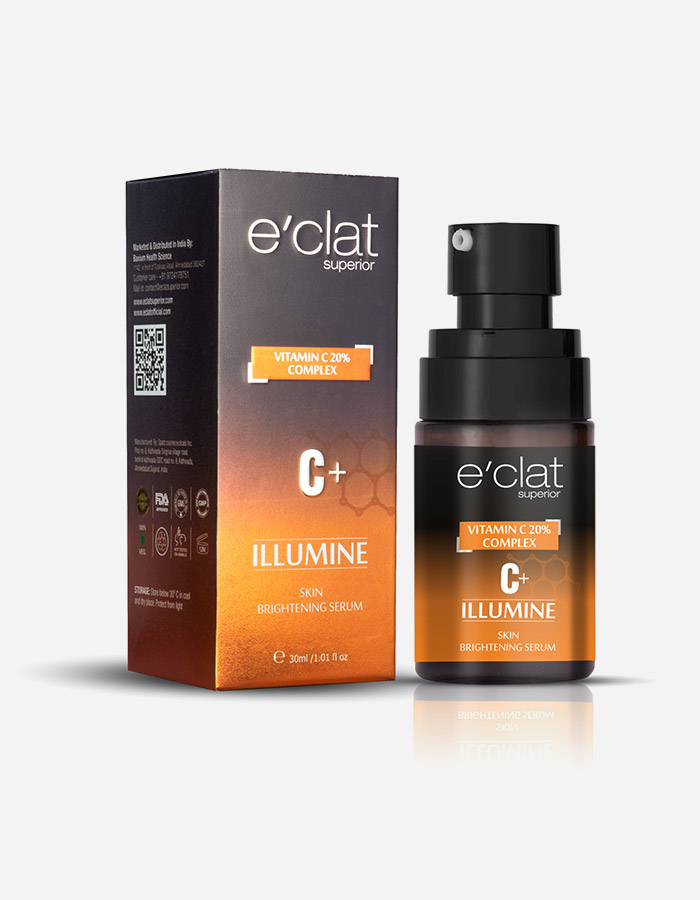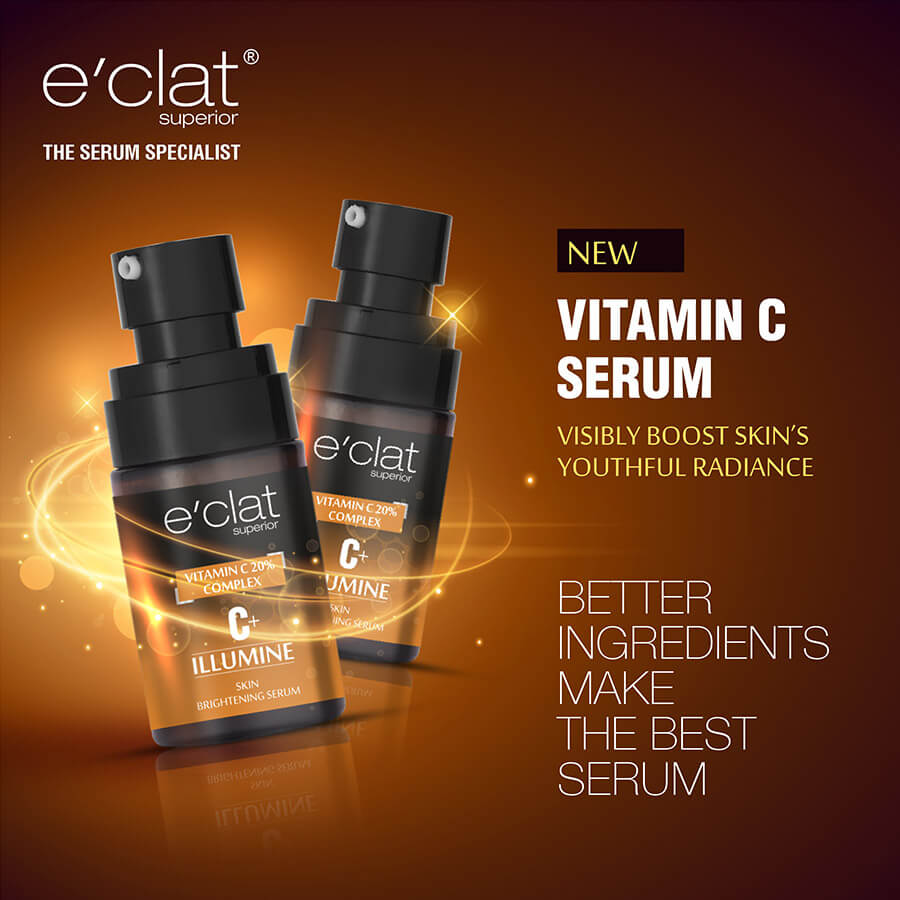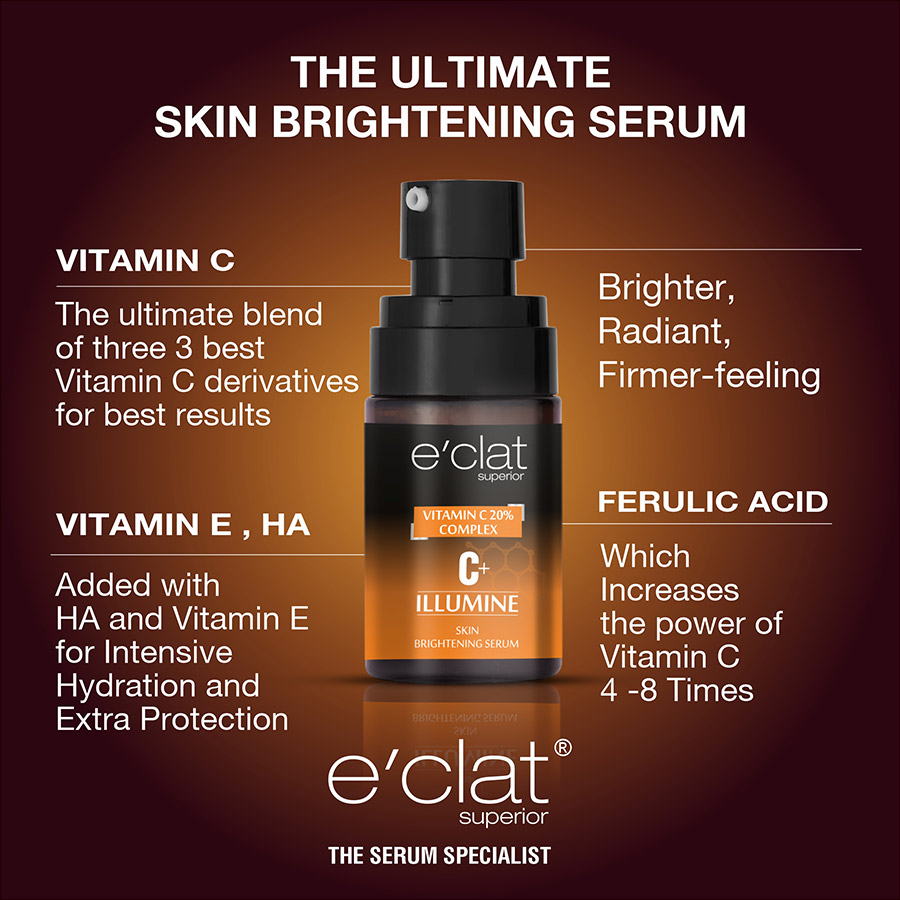 eclat Vitamin C Serum -The Best Vitamin C serum for Skin Brightening – 30 ml
₹1,650.00 MRP (INCLUSIVE OF ALL TAX)
Quantity 30 ml
Mfg. May 2023
Boosts collagen production.
Reduces hyperpigmentation.
Heals blemishes
Protects against sun damage.
Moisturizes the skin.
Reduces the appearance of pores.
Description
Avail the best offers on your favorite serum.
The coupon code you can use to avail of the best offer is FT 20. This code will give you a 20% flat discount on your order and a free Day Defence Serum worth Rs. 1650 with your favorite Vitamin C serum. The offer is valid for prepaid orders only.
BEST VITAMIN C SERUM DESCRIBED:
eclat Vitamin C Serum is the most recommended vitamin C serum by dermatologists and skin experts.
It is awarded as the most trusted vitamin C serum brand in India.
It is formulated with the best and proven ingredients to enhance the beauty and health of your skin and keeps it always glowing and flawless.
The best face serum for glowing skin combines a powerful Vitamin C blend with hydrating hyaluronic acid, antioxidant-rich ferulic acid, skin-nourishing vitamin E, and soothing olive leaf extract.
This is the best vitamin C serum combination that ensures brightens your complexion, boosts collagen production, and protects against environmental damage, all while enjoying deep hydration and nourishment.
INGREDIENTS OF BEST VITAMIN C SERUM:
Vitamin C blend of 20% (Ethyl ascorbyl phosphate, Superox C, Magnesium Ascorbyl Phosphate), along with Hyaluronic acid 1%, Ferulic acid 0.8%, Vitamin E 0.8%, and Olive leaf extract 1%,
THE SCIENCE BEHIND VITAMIN C SERUM IN SKINCARE
Benefits of using eclat vitamin C serum
Brightens skin tone
The best quality and highest concentration of Vitamin C in the eclat vitamin C serum helps to fade dark spots, hyperpigmentation, and acne scars, revealing a more brighter, radiant, and even complexion.
Hydrates and plumps
Hyaluronic acid in eclat Vitamin C Serum provides intensive hydration to make your skin plump and hydrated. so you can achieve brighter skin with a super soft texture.
Boosts collagen production
One of the most important roles of eclat Vitamin C serum is to stimulate collagen synthesis, which improves skin elasticity and reduces the appearance of fine lines and wrinkles, resulting in firmer and more youthful-looking skin.
Antioxidant protection
The potent antioxidant properties of Vitamin C, Ferulic acid, and Vitamin E in eclat Vitamin C serum help protect the skin from free radical damage caused by environmental stressors, such as UV rays and pollution.
Soothes and nourishes
The role of Olive leaf extract in eclat C serum is to provide soothing and nourishing benefits to the skin, helping to calm irritation and promote a healthy skin barrier.
That's why eclat C serum is most soothing and irritation-free even sensitive skin can tolerate it.
THE ROLES OF PH AND OILS IN VITAMIN C SERUM
A main factor that makes Vitamin C bioavailable is the pH level. Ascorbic acid must be formulated at a pH level of 3.5 to enter the skin.
Applying pure Vitamin C is not for anyone with sensitive skin as the material can tingle upon application.
In addition to this, topical delivery of Vitamin C into the skin is complicated because of the lipophilic (oil-loving) nature of the outer epidermal layers.
Vitamin C is a hydrophilic material meaning it has an affinity for water.
In e'clat superior Vitamin C "being coated in a lipophilic substance will actually help with epidermal delivery."
Basically, in order to penetrate into the skin it's important to pair Vitamin C with an oil-loving material or skincare formulation containing oils or oil-loving materials.
VITAMIN C, E, Hyaluronic Acid and Ferulic Acid SYNERGY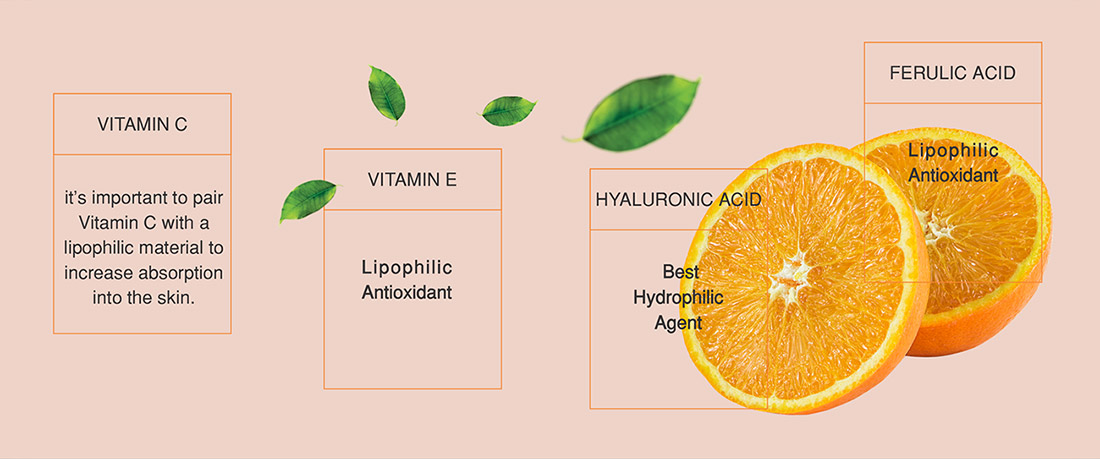 Why not pair it with the best possible material?
Vitamin E and Ferulic Acid have been found to work synergistically with Vitamin C to help with cell regeneration (collagen production) and photoprotection!
All three antioxidants work in their respective hydrophilic and lipophilic compartments of the cell to limit UV damage and reduce cell apoptosis (cell death).
When mixed with Vitamin C and E stabilizes the formulation and acts synergistically to double the photoprotection from fourfold to eightfold.
THE SCIENCE BEHIND VITAMIN C SERUM IN SKINCARE
Unique Vitamin C Blend
All Vitamin C serums are not the same, eclat Vitamin C Serum sets itself apart with its most unique formulation Vitamin C blend of 20% concentration, which includes Ethyl ascorbyl phosphate, Superox C which is almost 10 times more powerful than any other vitamin C derivative.
Magnesium Ascorbyl Phosphate is one of the most stable Vitamin C derivatives.
This combination ensures the most effective and stable form of Vitamin C, offering superior brightening and anti-aging benefits compared to other available brands.
Comprehensive Skincare Solution
Unlike many other Vitamin C serums on the market, eclat Vitamin C Serum goes beyond Vitamin C alone.
It features a powerful blend of additional vital ingredients such as Hyaluronic acid, Ferulic acid, Vitamin E, and Olive leaf extract.
This comprehensive formulation provides a multi-faceted approach to skincare, targeting hydration, antioxidant protection, and skin nourishment in addition to brightening and anti-aging benefits.
High Concentration of Hyaluronic Acid
eclat's serum contains 1% Hyaluronic acid, a significantly higher concentration than many competitors. This potent dose ensures optimal hydration and plumping effects, resulting in a more supple and youthful complexion.
Enhanced Antioxidant Protection
With the inclusion of Ferulic acid and Vitamin E, eclat Vitamin C Serum offers enhanced antioxidant protection for the skin.
These powerful antioxidants work synergistically with Vitamin C to help protect the skin from environmental damage and premature aging.
Soothing and Nourishing Olive Leaf Extract
The presence of Olive leaf extract in eclat serum sets it apart from competitors.
Olive leaf extract provides soothing and nourishing properties, promoting a healthy skin barrier and reducing irritation, making it an excellent choice for individuals with sensitive or compromised skin.
Paraben & Sulfate-free Formula
eclat Vitamin C Serum is formulated without parabens & sulfates. This differentiates it from many brands and makes it suitable for all skin types, including sensitive skin.
Why settle for ordinary skincare when you can have extraordinary results?
As a responsible and consumer-friendly skincare company we understand the basic needs of every skin.
We are striving to make the best skincare ritual UV and Pollution protection is one of the most important aspects of skin care rituals that's why we decided to develop the Perfect Skincare Duo:
eclat Vitamin C Serum and eclat Day Defence Serum! work hand-in-hand to deliver unparalleled skincare results.
eclat Day Defence Serum takes your skincare routine to the next level. This lightweight and non-greasy serum provides advanced protection against UV Rays and City Pollutants.
It helps to Preserve your skin's youthful vitality and maintain a healthy, radiant complexion throughout the day.
How To Use:
Cleanse your face thoroughly and pat dry.
Apply a few drops of eclat Vitamin C Serum onto your fingertips.
Gently massage the serum onto your face and neck using upward strokes until fully absorbed.
Follow up with a moisturizer and sunscreen during the day for added protection.
Real Results